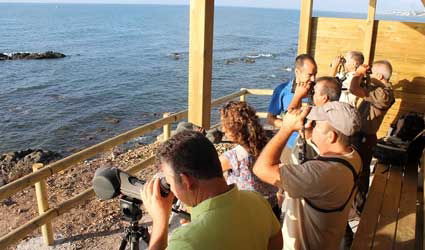 MIJAS has the western Costa del Sol's first bird-watching post at the Faro Calaburras on the coast.
The facilities have shading to protect birdwatchers from the sun or rain and are in a spot recommended by the Spanish Ornithology Society. In the area, numerous species can be seen migrating and in their natural habitat. It also has informative panels with details about the most commonly seen species, the Councillor for Beaches, Carmen Marquez, said.
This time of year is ideal to see species heading to North Africa.
It is hoped that the facilities will attract tourists, as nature tourism accounts for between 10 and 15 per cent of voyages throughout the world. In Europe alone, some 10 million people travel to birdwatching locations every year. Most of these tourists are from the UK, Germany and Holland.
Spain is considered a paradise for bird-watching tourists.
The spot was requested by ornithologists as well as environmental groups along the coast.
The nearest place for bird-watching in Malaga province is at the mouth of the Guadalhorce river, on the outskirts of Malaga city.