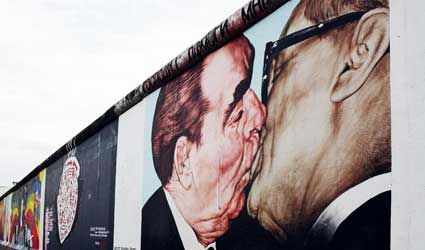 THE disintegration of the Soviet Union liberated Europe, or did it?
It seemed that Europe was united for the first time since the overthrow of Tsarist Russia and capture of Europe by Bolsheviks.  Sadly, the concept of a united Europe is still a distant dream.
The liberation of Europe in 1945 was a cruel self-deception.  For millions of Europeans the victors' oppression was to last a further 45 years. In 1989 – 1991, we sat glued to our television sets as their war ended; the watchtowers and sentry posts, the Berlin Wall collapsed and millions partied.
Today the European Union is made up of 28 nations. However, there are 50 countries in continental Europe. Travel between them up to 1917 was far easier than it is now. Many of these nations are historically and culturally more European than their Western neighbours.  
Yet today half the peoples of one Europe wishing to legitimately visit the other half are obliged to negotiate an expensive soul-destroying paper chase application as fearsome as was the Berlin Wall.
Doing so is a dreadful venture: Only the illegal, the wealthy, the corrupt and well connected can do so. 
One day I will tell you just what an ordinary European living on the other side of the railroad track has to do to do what Americans take for granted, to choose the state of their choice.
You will be shocked.  In return for residency rights, Del Boy Spain flogs parcels of land at €500,000.
I was taken aback when years ago a German friend told me he welcomed the Soviet Union's occupation of Eastern Germany. He explained that eventually the Soviet regime would collapse.
Held in a time warp and unaffected by non-European immigration much of the liberal West would by then have diluted its own culture.
What my friend could not foresee is that with the fall of the Berlin Wall the West changed places with the Soviet Bloc. Back then, the USSR was a near bankrupt gathering of disparate countries run by a self-elected leadership.  Tell me, can you give me a better description of the European Union?
Twenty-seven unelected commissioners (commissars) make the European Union's important decisions. Jose Manuel Barroso is the unelected President of the European Commission.
He loftily declares that 'nation states are dangerous if they are excessively democratic.' The president of the European Council is unelected Herman van Rompuy.
Everyone in Brussels and Strasburg knows that if the European Union (EU) applied to join itself it would be turned down flat because of it being undemocratic.
Who could have foreseen Russia and a score of independent Eastern countries being based on democratic principles whilst the EU morphs into a debt-burdened banker's plantation?
Does that remind you of anywhere else? The former USSR perhaps.
If despite the enormous costs involved the reunification of Germany can create Europe's most powerful nation, imagine what a truly united democratic Europe could do.