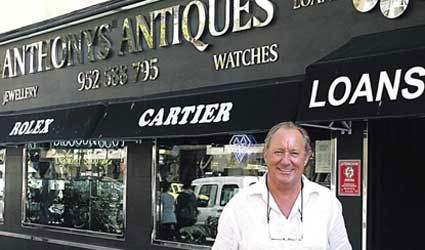 ESTABLISHED in 1979 and situated in Fuengirola, Anthony's Diamonds is jewellers, a pawnbroker and an antiques shop (specialising in art deco figures).
They have freehold premises with low overheads; which means they can be extremely competitive with their prices. If you are interested in buying a diamond for an investment or for a special occasion, they are well worth a visit.
Anthony's Diamonds have it all. Whether you would like purchase some exquisite diamonds or art deco figurines, or simply want to pawn some of your unused jewellery pieces to generate some extra cash, they can cater to your every need. Owner and manager Anthony Barnes runs this most reputable of businesses that has been in the present shop in Fuengirola for 14 years. They are totally committed to serving the people of the Costa del Sol providing a warm friendly service and good value for money.
So just how does a pawn loan work and what do they accept? A pawn broker is someone who lends money at interest in exchange for movable, personal property deposited as security. If the loan is repaid within the agreed time, the property may be re-purchased at the initial price plus interest. If the loan on the item pawned is not repaid, the pawnbroker may then re sell the item. The amount that can be loaned is usually based on the amount that the pawnbroker believes he can resell it for.
Money may be lent on all types of jewellery, watches, cars, boats, art work, paintings, silver, bronzes, etc. As long as it has a reasonable value, they are willing to pawn it.
Anthony's also offer the highest quality in craftsmanship for all your jewellery & watch repair needs. They can give you the most current & accurate valuations on all your jewellery pieces whether it may be for insurance, replacement or re-sale value. They also provide insurance quotes to ease your stress on lost, stolen or damaged goods.
Anthony's Antiques can be found in the Avenida Ramon y Cajal, 40, Fuengirola and their opening hours are from 10am to 2pm Monday to Saturday. Tel: 952 588 795, Email: [email protected]