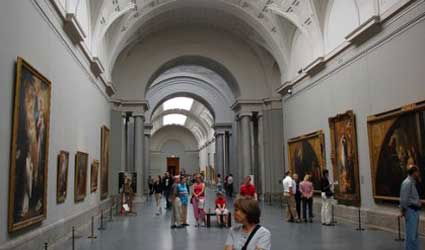 The Prado Museum in Madrid sustained losses of €1.09 million in 2012, compared to the €3.5 million it made in 2011.
According to the accounts published in the Official State Gazette, income has fallen mainly because the State is paying 25.4 per cent less to the Museum, and sponsorships have fallen by 26.67 per cent. Meanwhile, expenses have only fallen by 0.14 per cent.
Debtors' accounts have risen by 10.84 per cent meaning it has had to use money from the treasury. Current liabilities have fallen by 16.65 per cent because at the end of 2011, the last payments on shares of the capital stock of the NationalPradoMuseum were pending, as well as bills from repairs carried out on the buildings that year.
The museum has €38.4 million in its accounts for this year, but the General State Budget has increased the amount it will provide for the museum by 1.7 per cent for 2014.
The aim is to increase the accounts to €41.1 by 2016, and that private investments account for up to 70 per cent of the budget.
At the end of December 2012, the Prado had 528 employees, 392 of them permanent.
This year, the museum is expecting the number of visitors to fall by 25 per cent, meaning takings will fall by €2 million.