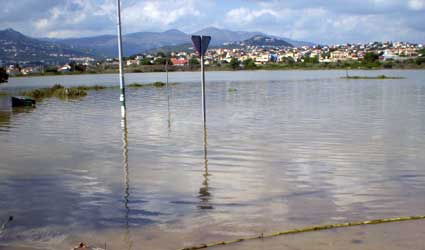 TORRENTIAL rain demonstrates year after year that the Marina Alta is increasingly vulnerable to flooding.
Storm drains and channelling for streams and rivers are insufficient, claimed
Jorge Olcina, professor of Regional Geographic Analysis at Alicante Uiversity.
Construction in Calpe, Javea and at the Girona river-mouth now blocks their natural exits, he warned. 
The Calpe salt beds are surrounded by an urbanised barrier, while Javea's old marsh (the Primer Muntanyar) is totally built-up.  Construction has also obliterated what was once the delta of the Girona river.
The area's infrastructure should be designed for a worst-case scenario, Olcina said during a speech on climate change in Calpe.
The benchmark should be the 872 litres per square litre that fell in one day in Javea in 1957, the most the Iberian Peninsula has ever recorded.
Even 200 litres of rain in an hour-and-a-half are enough for disaster and can turn rivers into roads, the professor warned.
Urban development plans seldom take into account the risk of torrential rain, said Olcina, who would like to see them include damage limitation and climate change.