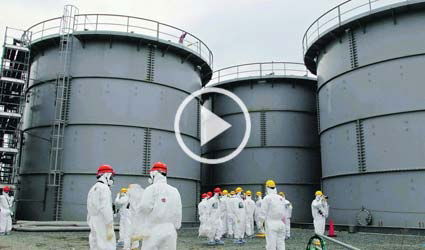 TOKYO (Reuters) – Six workers at Japan's Fukushima nuclear plant were exposed to leaking radioactive water after one of them mistakenly removed a pipe to a water treatment system, the plant's operator said on Wednesday.
Tokyo Electric Power Co, also known as Tepco, has been battling to contain radioactive water at the plant, which suffered triple meltdowns and hydrogen explosions in March 2011. Regulators have criticised the utility for its handling of the problems.
In the latest incident, a worker mistakenly detached a pipe connected to a treatment system to remove salt from the hundreds of tonnes of water Tepco pumps over the melted fuel in wrecked reactors at Fukushima to keep them cool.
"Several tonnes" of water spilled at the treatment facility but were contained within the site, a Tepco spokesman said.
Water at the treatment facility most recently had an all-beta radiation level of 30,000,000 becquerels per litre, Kyodo News reported on Wednesday.
At least seven tonnes of highly radioactive water may have leaked at the facility, according to a Reuters calculation based on the latest figures released by Tepco.
On Monday, Tepco said a plant worker accidentally switched off power to pumps that inject water to cool the damaged reactors. A backup system kicked in immediately, but the event was another reminder of the still precarious state of the plant.
Tepco said last week 430 litres (113 gallons) of contaminated water had spilled out of a storage tank at Fukushima and probably flowed to the ocean.
The Nuclear Regulation Authority said on Wednesday the incident was equivalent to "Level 0" on the International Nuclear and Radiological Events Scale (INES), but did not give an official rating.
In August, a leak of 300 tonnes of highly radioactive water from a hastily built tank on site was given a "Level 3" or "serious incident" rating on the INES scale.