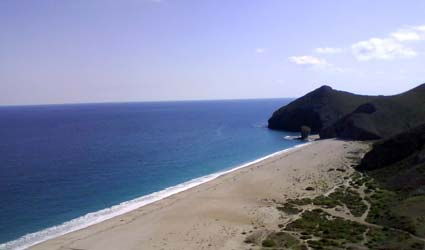 CARBONERAS TOWN HALL has viewed the summer at Playa de los Muertos as 'very positive.'
One of the most attractive tourist spots in the province attracted more than 120,000 people during the summer. The summer months have been marked by a cleaner and safer environment and improvement in services such as parking which have been highly rated by users.
Between June 15 and September 15 more than 25,000 vehicles parked in the area with local police increasing security and eradicating robberies from vehicles that had occurred in recent years.
Carboneras Town Hall also made a great effort in cleaning up the Playa de los Muertos to present it at its best during the summer.
This summer the clean-up campaign began operating on a daily basis on the beach. During the high season an average of 378 kilos of rubbish was collected every week by town hall workers. The government team has ensured that it will continue to work hard so that the Playa de Los Muertos remains a prime tourist spot for both the municipality and the province of Almeria.