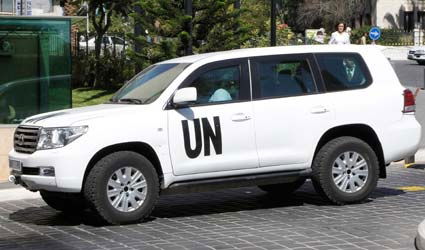 BEIRUT (Reuters) – Syria won foreign praise on Monday for starting to destroy its chemical arsenal, although an opposition activist said the world was merely giving President Bashar al-Assad time to kill more people with conventional weapons.
An official from the international mission overseeing the stockpile's elimination said Damascus had made an excellent start on Sunday, and the United States acknowledged its rapid compliance with a U.N. resolution on destroying chemical weapons as extremely significant.
Chemicals experts were overseeing a second day of work on Monday, which the official described as similar to Sunday's when Syrian forces used cutting torches and angle grinders to render missile warheads, bombs and mixing equipment unusable.
However, he noted that this was only the start of work that is due to last until mid-2014 and requires the cooperation of all sides. "It was an excellent first day, with the stress on the word 'first'," the official told Reuters by telephone from Damascus, declining to be named.
Assad's government, fighting a civil war in which more than 100,000 people have died, agreed to destroy the chemical weapons after a sarin gas attack on the outskirts of Damascus killed hundreds of people in August.
While the world's worst chemical weapons attack in 25 years may not be repeated in Syria, both Assad's forces and rebels continue to kill with conventional weapons daily and foreign governments are desperate to end a conflict that risks spreading across much of the region.
Experts from the Organisation for the Prohibition of Chemical Weapons (OPCW), supported by the United Nations, aim to oversee destruction of the Syria's chemical weapons production and mixing equipment by November 1, and deal with all chemical weapons materials by the end of June 2014.
"There are milestones and tests that lie ahead, and we hope and expect to have continued cooperation of all parties to pass those milestones," the official said.