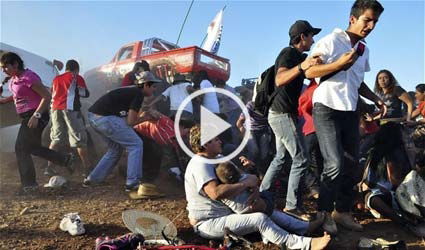 MEXICO CITY (Reuters) – Eight people, including four children, were killed and 79 injured when a monster truck careened into a crowd at a show in northern Mexico, an official at the public prosecutor's office in the city of Chihuahua said on Sunday.
The incident late on Saturday afternoon took place at the El Rejon dam on the outskirts of the city, about 230 miles (370 km) south of Mexico's border with the United States.
The dead included four children, the spokesman said. Of the 79 injured, 28 are still hospitalized, with 12 in a "delicate but stable condition," the spokesman said.
A video of the event, published on Youtube and local TV stations, shows a large red truck with wheels as tall as the cabin bouncing over two dummy red cars and barreling into the nearby crowd.
The driver, who has been detained, said in a statement that he hit his head on something inside the cabin and lost consciousness, the spokesman said.
Authorities are investigating the incident.