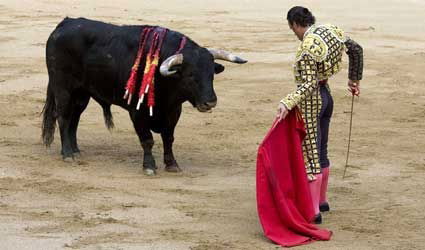 MILD spin, always detectible from the Zarzuela palace, went into overdrive in April last year.
This followed the King's disastrous elephant-shooting trip. Juan Carlos, now 75, has always had a roving eye but discretion ruled until he broke his hip in Botswana.
That was when the press broke its silence regarding his elephant-shooting companion, Princess Corinna zu Sayn-Wittgenstein.
A nation that kills bulls for sport cannot criticise a monarch who shoots elephants, but the lavish trip and the fair Corinna were redolent of other unloved Borbons. 
Juan Carlos is not responsible for his son-in-law's involvement in alleged misuse of public funds, but Iñaki Urdangarin casts a long shadow and the king's popularity ratings have slipped inexorably.
Coinciding with the King's recovery from spinal surgery, the Zarzuela wanted to show him back on form and raring to go.
The strategy faltered early on when, following his mediation with Morocco, a convicted paedophile was released from jail along with other pardoned Spanish prisoners.
Juan Carlos has since needed another operation – his fifth in 18 months – and will be out of circulation for months.
Spin is not a tradition in Spain where the demolishing thrust of the estocada is still preferred to manipulating public opinion. 
And in Juan Carlos's situation no amount of spin can deflect the stab-wound inflicted by that now-mentioned word, abdication.
On a different tack
THE central government in Madrid is soft-pedalling, not back-pedalling, over Cataluña.
Mariano Rajoy and his team are reviewing a new financial model for the region.  It's not an independence referendum and it's not constitutional change, but the way to an autonomy's heart is always through its pocket.
All at sea
WHEN the Costa Concordia cruise ship ran aground, its captain Francesco Schettino left before most of the passengers.
He now blames the helmsman although whatever happens to a ship is ultimately the captain's fault.
No-one knows this better than 78-year-old Apostolos Mangouras, captain of the Prestige. He remained aboard until the last possible moment after the storm-stricken tanker began to break up in November 2002.
He wanted to take the ship to port to contain the inevitable oil spill but was told to put out to sea. The order came from the Interior minister of the day, one Mariano Rajoy, a decision that precipitated Spain's worst-ever environmental catastrophe. Eleven years later Mangouras now awaits sentencing for the disaster.
The buck stops with the captain as Apostolos Mangouras knows. Although he has also learnt that politics will sink any ship.