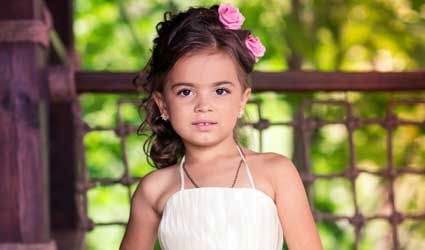 THERE has been much press coverage lately about child beauty pageants.
First France announced plans to ban them for promoting the "hyper-sexualisation" of minors. Next the child abuse charity, Kidscape, condemned them while mother-of-six Natalia Adlington, from Liverpool, part of Britain's largest child pageant family, claimed that, far from forcing her children to grow up too fast, they actually prepared them for adult life.
Whilst I agree child beauty pageants come over as creepy – tots teetering down the catwalk in full make-up and bikini or ball gown – is the other end of the spectrum any better? By this, I mean the findings a few months back of the parenting website, Netmums – that childhood is over for many by the age of 12.
More than two-thirds of its users complained that kids are under pressure to grow up too fast. Girls made to worry about their appearance and boys pushed into "macho" behaviour too early.
Doesn't this, though, speak more about Netmums users' desire to keep their children 'children' long after their natural progression into adolescence? We tend to forget that the concept of 'childhood' is a relatively modern one. In agricultural and industrial society, children were down mines, up chimneys or digging up potatoes well before the age of 12. So, Netmums, less whinging about lost childhoods and more waking up to the reality that kids are just small adults! Too many are cocooned in cotton wool these days – maybe that's why so many think the world owes them a favour.
Not just parents but the UK education system, too, needs to play its part in teaching kids how to develop mental toughness. Far too many schools are failing to prepare children for adult life. To be successful, you need to learn to cope with failure, stress and hard work. Once this is removed from state schools, when children grow up they're simply unable to cope – except with drink and drugs.  
Finally, on a completely different note, many thanks to all of you who've helped my latest thriller, Retribution, sell so well, and left great comments on my website. In fact, there have been so many hits to it recently I was starting to think the blurb on the back of Retribution had maybe gone viral!         
Nora Johnson's thrillers 'Retribution', 'Soul Stealer', 'The De Clerambault Code' (www.nora-johnson.com) available from Amazon in paperback/eBook (€0.89;£0.77) and iBookstore. Profits to Cudeca