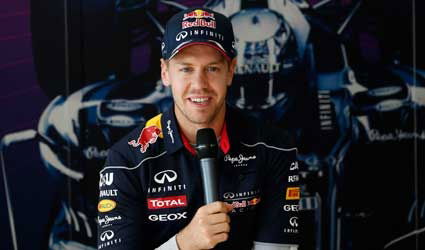 YEONGAM, South Korea (Reuters) – Formula One world champion Sebastian Vettel teased rivals puzzling over how his car could be so much quicker than theirs by jokingly referring to Red Bull's 'traction control system' on Thursday.
Such systems are banned but the German's pace in Singapore last month was so astonishing, with his car pulling out a 30-second lead in the space of 15 laps, that speculation was still buzzing ahead of Sunday's Korean Grand Prix.
Mercedes's Lewis Hamilton told reporters that the last time he had a car that could perform like Vettel's was when traction control systems were legal, although he did not accuse Red Bull of anything underhand.
Italian former team owner Giancarlo Minardi fuelled the speculation last week in a column on the Minardi website (www.minardi.it) in which he suggested Vettel's car in Singapore had sounded different to all the others including team mate Mark Webber's.
"That sound was similar to the sound made by the engine when the traction control system got into action in the past seasons," Minardi added.
Ferrari's Fernando Alonso, Vettel's closest title rival but 60 points adrift, told reporters the Red Bull engine had sounded different all season but was maybe highlighted in Singapore because of the nature of the street circuit.
"If you go to the winter tests in Barcelona, in the corners the Red Bull had a different sound," he said. "So they are using something different compared to the other teams but it's something that is completely okay."
Vettel, who could wrap up his fourth successive title this month, simply smiled on Thursday when asked whether he would be as dominant in Korea as in Singapore.
"Well, since traction control will not matter so much, we may struggle a little bit more," he told reporters with heavy emphasis.
SUSPICIOUS MINDS
Asked in a later question about Red Bull's 2014 car, the 26-year-old returned to the theme. "There's elements of this year's car going in to next year's…things like traction control will obviously be…" he grinned.
"We are pretty proud of the system we have because other people will never figure out how we've done it," added Vettel.
Team principal Christian Horner gave short shrift to suspicious minds, however, pointing out the Red Bull used the same standard McLaren-provided electronic control unit as everyone else.
"The electronic controls on the cars are so tightly governed…they fully comply with the FIA rules which all the teams are using," he said. "So any suggestion of traction control is purely either mischievous on behalf of the others or wishful thinking.
"Sebastian's performance was so dominant in Singapore, it will inevitably raise questions of how is that possible," he acknowledged.
"But other teams will be looking inwardly and the easiest conclusion to come to is they must be cheating. These things are so tightly controlled that it is impossible. The facts are he drove an incredible race in Singapore."
Horner said his team would lose no sleep over the speculation and would not be distracted by it either.
He assured reporters also that Vettel's and Webber's cars were identical.
"You would have to be fairly stupid to introduce traction control on to a car…that is scrupulously checked by the FIA," added Horner. "I cannot imagine any team in the pit lane would do it."