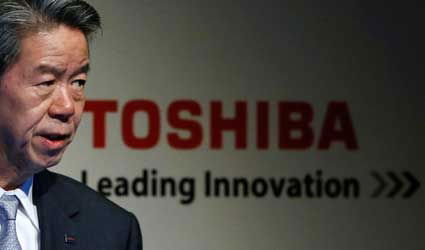 TOKYO (Reuters) – Toshiba Corp wants a majority stake in British nuclear consortium NuGen and aims to decide on the matter before the end of the year, its chief executive said, as it seeks its first order for a nuclear reactor since the Fukushima crisis in 2011.
Hisao Tanaka told Reuters in an interview on Thursday that the company was confident about securing orders for 29 new nuclear reactors by March 2018 and that he sensed post-Fukushima anti-nuclear sentiment had begun to thaw.
Spanish utility Iberdrola SA is in talks to sell its 50 percent stake in NuGen, according to a source with knowledge of the talks. Taking a majority stake would require Toshiba subsidiary Westinghouse to buy shares both from Iberdrola and from joint NuGen shareholder GDF Suez.
Toshiba will make a decision on capital investment in its NAND flash chip operation by March of next year, Tanaka added.
The company is expanding its fifth fabrication plant in Japan and questions remain as to when it will install equipment and begin production, which would depend on the outlook for demand for NAND chips, used in smartphones and tablets.
Tanaka said the ideal scenario would be to install equipment immediately when construction is complete on the expansion project next summer, and begin production as soon as possible.
Toshiba and its partner SanDisk Corp have pledged to invest a maximum of 400 billion yen ($4.11 billion), split 50-50, on equipment for the factory.
Tanaka also said that the restructuring of Toshiba's TV division had been completed with an announcement earlier this week that the company would shrink the unit, shutting two of its three overseas factories and reducing its worldwide workforce by half to 3,000.
The CEO said he was confident that the division would be able to pull into the black after these measures have been implemented.