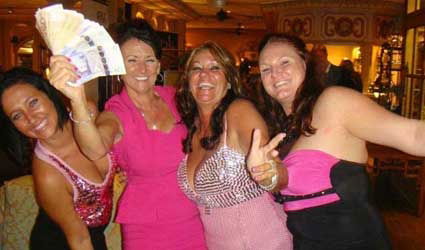 THE El Oceano Beach Hotel will be hosting its annual Positively Pink Ball in aid of breast cancer on October 10, starting at 7.30pm, proudly sponsored by The Euro Weekly News .
The fun filled evening will see a raffle and auction for guests to be involved and feature some of the coast's top entertainers.
But behind the fun there is a very serious message.
Positively Pink is a registered charity based on the Costa del Sol dedicated to raising money to provide help and support to women with, and education about,  breast cancer.
It also offers fast-track screening, absolutely free of charge, to British women who may not be able to access routine testing through other sources. And it is all done with that most important of qualities – the human touch.
The charity is run by compassionate people whose lives have been touched by cancer.
They have selflessly given up their time to help women through every step of the process from screening, discovery of, treatment and beating cancer.
Positively Pink knows that for those facing cancer it is often comforting to talk to someone who has experienced what they're going through.
These women faced with the potential of having cancer often experience an enormous emotional upheaval.
That is why charities such as Positively Pink, that provide guidance and support through every step, are so important.
The work done by this one charity is truly incredible; the people at Positively Pink save lives, be it by preventing cancer in the first place, or by treating it. For those who sadly can not be treated they can offer their kindness and support from women from all different ages and backgrounds.
To help this amazing charity to continue to fight cancer you can make a direct donation via the link provided on this page, attend any one of their events, or purchase Positively Pink or Positively Blue merchandise from Clinic Medicare in La Cala or the El Oceano Beach Hotel.
Positively Pink would like to thank the local businesses from along the coast that have donated incredible prizes to be won and auctioned; from dry-cleaning vouchers, to hotel and beauty vouchers,  holidays and health checks, microwaves, teddy bears, fabulous paintings and fur coats, diamonds, football shirts and even a boob-shaped cake.