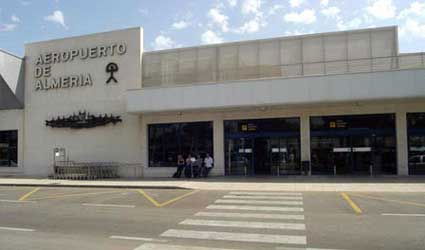 ALMERIA AIRPORT  was the scene last week of the first flight of a 'drone'  within a project named 'Perseus'.
The system is aimed at controlling  the external borders of the European Union incorporating the latest technological advances to interact and receive on a single screen the data provided by different monitoring systems.
This was the first flight of an unmanned airplane from a European civil airport. The test flight took off at 8am with airspace in the area closed down for two hours.
The aim was to simulate the interception in the Alboran Sea of a boat transporting immigrants  from the African coast attempting to enter the European Union illegally . The operation was directed from the centre of Maritime Surveillance Coordination and Border Coastal Civil Guard , located in Madrid.
From there they instructed one CN-235 Guardia Civil aircraft to monitor the waters and provide real time information to the coordination center, while another aircraft developed by Indra and equipped with radar and optoelectronic day/night vision systems  also took  part in the mission.
When the boat with 'immigrants' approached the coast of Almeria, the work was conducted by the Integrated Surveillance System of the headquarters of the Guardia Civil in Almeria capital. The Guardia Civil intervention ocean vessel Rio Miño, with the support of maritime surveillance aircraft Indra, concluded the operation.
All information collected by the Guardia Civil was shared with different points of Perseus systems located in France, Italy and Portugal.
The resources normally held in Almería coastal surveillance and other Andalucian coastlines were used in an exercise involving air and sea units to develop and test the new system that aims to improve the capabilities and more efficiently organise human resources and technological advances.