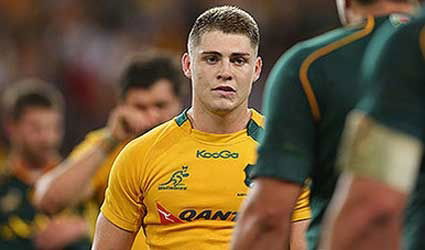 (Reuters) – James O'Connor's playing future was left in tatters on Thursday after the controversial utility back was released from his Australian Rugby Union (ARU) contract with immediate effect and then told by the Western Force to take a break from the sport.
O'Connor, who had been stood down by Wallabies coach Ewen McKenzie after another investigation into off-field behavioural issues, had accepted the ARU decision but still held out hope for a contract with the Western Force.
The Force, his former team, were the only Australian Super Rugby side interested in signing the talented 23-year-old after he was released by the Melbourne Rebels earlier this year.
"The …Western Force has encouraged Wallabies winger James O'Connor to take time away from rugby to consider his playing future," the Perth-based franchise said in a statement.
"The decision follows the Australian Rugby Union's announcement that it will not offer him a national contract for 2014.
"Western Force remains open to the possibility of O'Connor's return to the club provided he understands and observes the club's non-negotiable standards and values."
The Force's decision sent a clear message they would not accept any incidents of bad behaviour by the player, whose career has been blighted with off-field incidents.
The most recent of which was when he was escorted by police off a plane at Perth airport after the Wallabies' 14-13 victory over Argentina in the Rugby Championship on September 14.
The ARU launched an investigation into that incident and McKenzie then suspended O'Connor "indefinitely" from the Wallabies until his behaviour improved.
O'Connor, who played flyhalf in the British and Irish Lions series earlier this year before moving back to the wing for the Rugby Championship, has won 44 caps for his country since his debut in 2008.
ARU chief executive Bill Pulver said O'Connor would be available for Wallabies selection next year if he remained in the country playing Super Rugby, his form warranted it and he was adhering to their expected standards of behaviour.
"This has been a difficult decision for all parties," Pulver said.
"James is a player with huge potential and someone who has the capacity to make a significant long-term contribution to our game but after assessing the evidence of numerous incidents, we have an obligation to uphold the values of our game and James understands that.
"We would consider reviewing our position regarding a national contract for 2015 and beyond if we believe James behaviour is consistent with the values associated with being a Wallaby."
O'Connor had earlier told News Limited newspapers that he was sorry for his behaviour and would look to try to re-establish himself in the national set-up.
The Force's strongly-worded statement, however, and the loss of a reported A$600,000 ($562,000) from his ARU contract could see him seeking employment overseas.
"I want to apologise for any issues that I have caused and I want express my respect for my team mates, the Wallabies and the jumper," O'Connor told the newspapers.
"There is nothing more important and rewarding to me than representing my country.
"I recognise that given my actions and the circumstances it is best for the team and myself to go in different directions in the short term.
"I remain focused on earning my place back with the Wallabies and will be looking for the right opportunity to do this.
"I realise I need to earn back a lot of respect, and that is exactly what I plan to do both on and off the field."