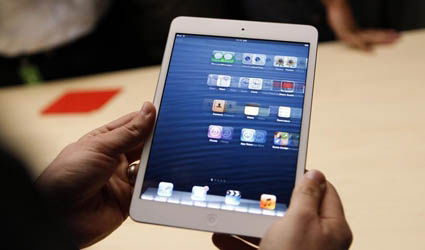 TAIPEI/TOKYO (Reuters) – Apple Inc will be unable to widely roll out a new version of the iPad Mini with a high-resolution "retina" display this month, people who work in the company's supply chain said, leaving the gadget without the sharper screen found on rival tablets from Google Inc and Amazon.com Inc.
Apple's supply chain is only now gearing up to make retina displays for the iPad Mini, which means the gadgets could be available in only limited quantities this year, if at all, and the company may miss the chance to cash in on the year-end holiday shopping season, the sources said.
Cupertino, California-based Apple has come under pressure to preserve market share and bolster sales against rivals that are rapidly raising specifications and lowering prices.
It remains unclear exactly what new features and modifications could find their way into the next iPad Mini, which the sources said was due to be unveiled this month.
But higher-resolution screens and cameras, as well as thinner and lighter dimensions, are among the improvements users have come to expect with updated smartphones and tablets.
"If they don't put in retina … there will be howls," said Frank Gillett, an analyst with Forrester.
Apple declined to comment about any product launches and the sources at companies in Apple's supply chain declined to be identified due to the confidentiality of the matter.