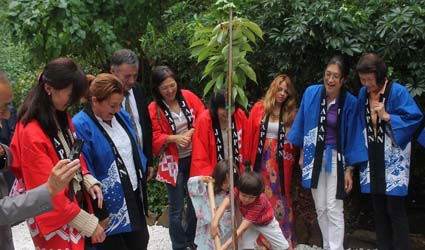 TOUR operators and travel agencies in Japan will be offering their clients the chance to visit Mijas and plant a cherry tree.
The tourist package, named Sakura, is the result of an agreement signed by Mijas mayor, Angel Nozal and the president of the Hispanic-Japanese association of tourism, Haruo Shimohira.
The Minister Counsellor of the Embassy of Japan in Spain, Keichiro Morishita, acted as a witness to the agreement.
Under the agreement MijasTown Hall will hold an official reception for all the Japanese groups that arrive to plant cherry trees in a garden at Fuente de la Seda, and provide them with a certificate.
The signing of the agreement and the planting of the first six cherry trees, in Mijas were part of events organised in the town to mark the year of Japan in Spain. It commemorates the 400th anniversary of Japanese presence in the country.
There are 25 Japanese residents in Mijas and approximately 150,000 visit the town every year. Some of the residents in the town attended the event and planted their own cherry tree.