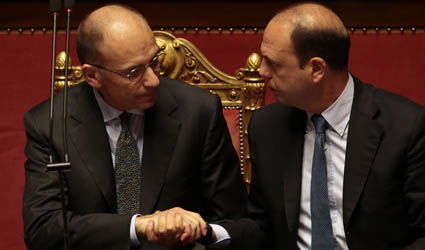 ROME (Reuters) – Prime Minister Enrico Letta warned on Wednesday that Italy risked being left without a stable government if he loses a confidence vote triggered by Silvio Berlusconi's move to pull his centre-right party out of the coalition.
However, the media tycoon's furious decision on Saturday to withdraw his ministers from the government has provoked a revolt in his People of Freedom (PDL) party that could see dozens of Senators defy orders and vote for the government.
Estimates of how many will do so vary widely. PDL Senator Roberto Formigoni said on Wednesday that 25 rebels were ready to form a new group, whereas on Tuesday members of the dissident camp had given forecasts as high as 40.
Letta issued his warning after a week of political drama as the fragile accord that held his unwieldy coalition of left and right together broke apart over moves to expel Berlusconi from parliament following his conviction for tax fraud.
"Italy is running a risk that could be fatal, without remedy. Thwarting this risk, to seize or not seize the moment, depends on the choices we will make in this chamber. It depends on a yes or a no," he told the Senate.
For Letta, whose centre-left Democratic Party (PD) has a strong majority in the lower house, the vote in the 315-seat Senate will be decisive. A vote is expected in the early afternoon after a debate by Senators.
He can count on at least 138 votes from the PD and centrist parties, but to be sure of winning he would need at least another 20 votes for a majority.
Late on Tuesday, Letta told the five centre-right ministers ordered by Berlusconi to quit the government that he would not accept their resignations, a sign of confidence and an invitation to other moderates to support him in the vote.
He said the government would continue with tight control over public finances and a focused programme of economic reforms and said it was vital that Italy had a stable government in 2014 when it assumes the rotating presidency of the European Union.
Financial markets have responded positively to signs that defectors from the centre-right would guarantee the survival of the government and avert the uncertainty of new elections.