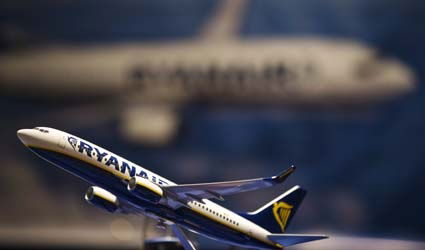 AIX-EN-PROVENCE, France (Reuters) – A French court ordered low-cost carrier Ryanair to pay over 8 million euros (6 million pounds) in fines and damages on Wednesday over labour code breaches linked to treatment of local workers hired on foreign contracts.
The Irish airline, known as a pioneer of no-frills travel, was on trial in France on charges covering a range of alleged labour code violations connected to its Marseille operating hub between 2006 and 2010.
The court in southern France ordered Ryanair to pay 200,000 euros of fines, in addition to 4.5 million euros of backdated social charges, 3 million in pension contributions and 450,000 euros in unemployment charges.
The court found that Ryanair had breached the labour code by not paying French social and other charges for workers hired abroad but WHO spent much of their time at the Marseille hub.
Ryanair had already said in a statement issued on Tuesday that it had expected a negative ruling and would appeal it.
"We will appeal… on the basis that European employment and social security law clearly allows mobile workers on Irish- registered aircraft, working for an Irish airline, to pay their taxes and social taxes in Ireland," the statement read.
Ryanair has since shut its permanent Marseille hub and operated a summer-only operation since April, 2011.