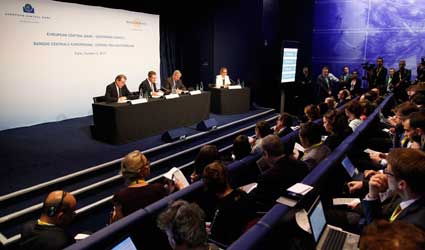 PARIS (Reuters) – The European Central Bank is watching moves in market interest rates closely and is ready to use any policy option to temper them if needed, its president said on Wednesday.
The central bank was "particularly attentive" to any moves in market rates which could threaten economic recovery or push inflation too low, Mario Draghi told a news conference after the ECB left official euro zone rates at a record low 0.5 percent.
But he stopped short of any immediate action.
The ECB has grown concerned about market rates, which moved higher over the summer at the prospect of the U.S. Federal Reserve unwinding its stimulus – a rise that subsided after the Fed delayed a reduction in its bond purchases.
Draghi said the ECB stood ready to use any of the "vast array of instruments" it has to act on market rates if needed, echoing his pledge in July last year to do "whatever it takes" to save the euro.
"With regard to money market conditions, we will remain particularly attentive to developments which may have implications for the stance of monetary policy," Draghi said.
"We are ready to use any instrument including another LTRO if needed," Draghi said with reference to ultra-long loans, which the ECB deployed in late 2011 and 2012 to pump over 1.0 trillion euros (831.79 billion pounds) into the system.
A majority of economists polled by Reuters expect the ECB to keep its key rate at 0.5 percent until at least April 2015. They also predict it will serve up another course of long-term cheap liquidity to banks (LTRO), possibly by the end of this year.
Analysts have also not ruled out a rate cut, but they did not take Draghi's comments as a cue for immediate ECB action.
"None of this means … that the ECB is about to launch a major easing offensive," Greg Fuzesi at JP Morgan said after Thursday's ECB news conference in Paris.
The euro rallied to its highest since February against the dollar, reaching a peak of $1.3606. It last traded at $1.3588, up 0.5 percent on the day, as Draghi set out no immediate plans to loosen policy further.
Noting that Draghi said no one at the ECB wants to see a "liquidity accident", Fuzesi expected a two-year LTRO in the first quarter of next year.
Excess liquidity – the amount of money beyond what the banking system needs to function – has fallen to 221 billion euros from over 800 billion early last year, approaching a level expected to push market rates closer to the ECB's main rate.
The excess has fallen as banks repay the LTROs they took from the ECB in late 2011 and early 2012.
The ECB is concerned that higher short-term market rates that banks use when lending to each other could hurt the euro zone's recovery and push inflation further below target.