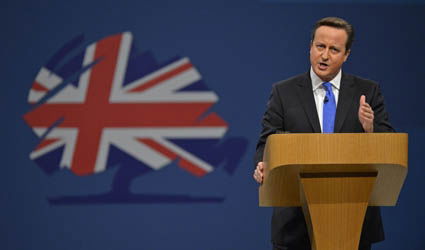 MANCHESTER, England (Reuters) – Prime Minister David Cameron said private enterprise and tax cuts were the best ways to raise living standards in Britain, dismissing plans by opposition Labour to raise corporation tax as nonsensical.
"We know that profit, wealth creation, tax cuts, enterprise, these are not dirty elitist words, they're not the problem, they really are the solution because it's not government that creates jobs, it's businesses," Cameron told the Conservative party annual conference in Manchester, northern England, on Wednesday.
"It's business that get wages in people's pockets, food on their tables, hope for their families, and yes, success for our country. There is no shortcut to a land of opportunity."
He slammed Labour's proposal to increase corporation tax.
"That is just about the most damaging, nonsensical twisted economic policy you could possibly come up with and we will fight it every step of the way," he said.