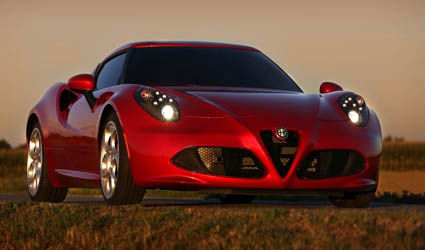 DESIGNED, engineered and built as a pure driving machine, the new Alfa Romeo 4C marks the brand's return to the world of lightweight sports coupes.
Built at the Maserati plant in Modena, the mid-engined Alfa Romeo 4C employs the latest technologies of Alfa Romeo's newest models.
In total, global production for the Alfa Romeo 4C is limited to just 3,500 units.
Carbon-fibre was chosen for the one-piece monocoque due its high levels of structural rigidity and exceptionally low weight.
Sheet Moulding Compound (SMC), which is lighter than both steel and aluminium, is used for the bodywork to help reduce the Alfa Romeo 4C's overall weight.
Less than four metres in length and with a wheelbase of 2.38m metres the Alfa Romeo 4C's compact shape accentuates its agility.
Power comes from a new four-cylinder turbo engine which, thanks to its aluminium block, is 22 kilos lighter than the engine that powers the Alfa Romeo Giulietta QV.
Turbo-charged and with direct injection, this new1750 Turbo Petrol unit sets new torque and specific power records for this size of engine, at over 200Nm- and 137hp-per-litre respectively.
Accelerating from 0 to 62mph takes just 4.5 seconds in the new Alfa Romeo 4C, on sale from €53,990 with deliveries expected early 2014.
Due to its light weight and advanced engine and transmission technologies, its official combined-cycle fuel economy figure is 6.8 litres/100km, its CO2 emissions are just 157g/km.
The exhaust has been tuned to emit a full, rich sound and particular attention paid to the seat design so the movement and reactions of the car can be 'felt' properly, the manufacturer claims.
The steering, unassisted, is progressive, direct and engineered to convey as much feedback and feel as possible.
Inside the Alfa Romeo 4C, a multi-function, digital display occupies the instrument binnacle and the steering wheel is a bespoke, flat-bottomed, two-spoke item with integrated paddle gear-shifters.
The remaining controls are grouped together on the tunnel console, including the button-operated TCT transmission selector.
Composite bucket seats and aluminium pedals complete the minimalistic, drive-focussed cabin.