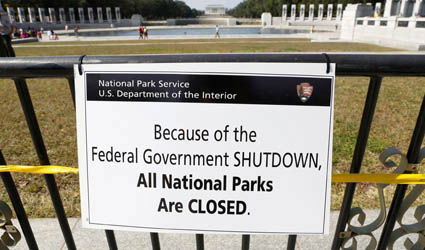 WASHINGTON (Reuters) – The White House rejected a Republican plan to reopen portions of the U.S. government on Tuesday as the first shutdown in 17 years closed landmarks like the Statue of Liberty and threw hundreds of thousands of federal employees out of work.
The quick dismissal offered no sign that President Barack Obama and Republicans can soon end a standoff over health care that has sidelined everything from trade negotiations to medical research and raised new concerns about Congress's ability to perform its most basic duties. An even bigger battle looms in coming weeks, when Congress must raise the debt limit or risk a U.S. default that could roil global markets.
As Republicans in the House of Representatives huddled to consider their next move, Obama accused them of taking the government hostage in order to sabotage his signature health care law, the most ambitious U.S. social program in five decades.
"They've shut down the government over an ideological crusade to deny affordable health insurance to millions of Americans," Obama said in the White House Rose Garden.
Republicans in the House of Representatives view the Affordable Care Act as a dangerous extension of government power and have coupled their efforts to undermine it with continued government funding. The Democratic-controlled Senate has repeatedly rejected those efforts.
Spending authority for much of the government expired at midnight on Monday (5 a.m. BST), but that did not prevent the Obama administration from unveiling the health-insurance exchanges that form the centrepiece of the law.
The latest Republican plan, floated by party leaders on Tuesday, would restore funding for federal parks, veterans programs and the District of Columbia.
That, Republicans said, also would encourage talks to fully end the shutdown and craft a broader deal that would also raise the debt limit.
"We are asking Democrats to come to the table," Republican Representative Thomas Massie of Kentucky said.
The White House did not take long to reject the offer.