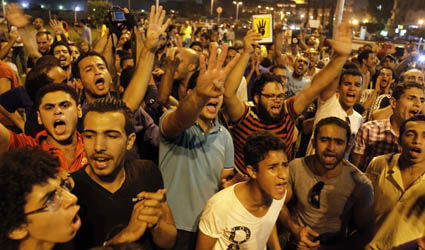 CAIRO (Reuters) – Supporters of Egypt's ousted President Mohamed Mursi protested in Cairo's Tahrir Square on Tuesday for the first time since the army forced him from office in July, a Reuters witness said.
Around 100 protesters gathered in the square, chanting: "Down with the military government!"
"We are a country not a military camp," the Mursi supporters shouted in Tahrir, which in 2011 was the rallying point for hundreds of thousands of people against former President Hosni Mubarak. "We want freedom!" they chanted.
Shortly after arriving in Tahrir, passersby attacked them with rocks. Riot police then moved in and dispersed the crowd.
Since ousting the elected Islamist president, security forces have killed hundreds of pro-Mursi protesters and senior members of his Muslim Brotherhood have been arrested, actions that drastically reduced the size of protests.
The military took over in July after mass demonstrations against Mursi's rule, installing an interim government and announcing a "roadmap" for a transition to a new election.
Army chief Abdel Fattah al-Sisi called on Tuesday for a quick transition to restore stability to a country where the political turmoil has decimated investment and tourism.
Speaking to soldiers and policemen at a seminar, Sisi "called on everyone to be truly aware of the size of the problems facing society, and which necessitate speeding up the end of the transitional phase," the army spokesman's official Facebook page said.
Foreign Minister Nabil Fahmy said last week that the transitional phase of government should end "by next spring".
In a reference to Mursi's year in power, Sisi condemned what he said were attempts to distort "a ruling experience that failed to meet the demands of the Egyptian people" and portray it as a "religious battle and a war on Islam."
RECONCILIATION
At talks this week, European Union foreign policy chief Catherine Ashton will encourage reconciliation between the government and the Muslim Brotherhood, a European diplomatic source said.
"She is coming to explore the possibilities for a return to a transition in which all sides can participate," the European diplomat said in Cairo. Ashton arrived on Tuesday.
"Things are still not completely black and white, although the situation is extremely difficult and reconciliation is becoming a difficult word in Egypt."
Getting the army-backed government and the Brotherhood to compromise may be an impossible mission for Ashton, who failed on a previous visit, as did several Western envoys, to persuade the military to avoid using force against Mursi's supporters.
Security forces crushed pro-Mursi protest camps on August 14, killing hundreds of people.
The Brotherhood's leaders were arrested in a bid to decapitate the movement, which won every election in post-Mubarak Egypt. A court has now banned the group and ordered its assets frozen.
Ashton is expected to meet government leaders and army chief Sisi, as well as the few Brotherhood politicians who are not in jail.
She is expected to explore whether there is still room for an initiative that Deputy Prime Minister Ziad Bahaa el-Din, a liberal, put to the cabinet in August.
The proposal called for an immediate end to the state of emergency, political participation for all parties and guarantees of human rights, including free assembly.
"This is one of the possibilities that should be explored," the diplomat said.