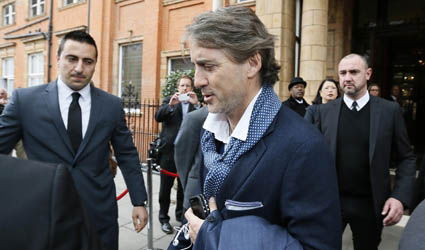 (Reuters) – Former Manchester City manager Roberto Mancini has signed a three-year deal with Galatasaray to replace Fatih Terim who was sacked as coach last week, the Turkish champions said on Monday.
The Italian was appointed two days before his new club visit his homeland to face Juventus in the Champions League.
"I'm very happy to arrive at a big club like Galatasaray," he said on uefa.com. "I decided to join a great community. The Galatasaray v Juventus match will be a happy coincidence for me."
Galatasaray said Mancini would be paid 3.5 million euros ($4.74 million) for the rest of the season and 4.5 million for each of the following two seasons, excluding bonuses.
Mancini had been out of a job since being dismissed by the English club in May after his team were shocked by Wigan Athletic in the FA Cup final and gave up their Premier League crown to Manchester United without much of a fight.
He spent 3-1/2 years at the Etihad Stadium, leading City to the Premier League title in 2012 and the FA Cup the previous year as the club's 35-year trophy drought came to an end.
The 48-year-old former Inter Milan, Lazio and Fiorentina manager was a popular figure with the fans at City but his tendency to publicly criticise his players was widely reported in the British media to have caused dressing room unrest.
NEVER DULL
His frantic gesticulations on the touchline, wild goal celebrations and sense of humour meant there was never a dull moment with Mancini but his often harsh management style seemed to get his players' backs up.
Having won silverware at all the clubs he has previously managed, including four Italian Cups and three Serie A titles, he arrives in Turkey with the pedigree needed to turn around a poor start to the season by the 19-times domestic champions.
They sit 10th in the 18-team league and have taken seven points from their opening five games.
Their Champions League campaign got off to a dreadful start earlier this month when they were thrashed 6-1 at home by Real Madrid in Group B.
Galatasaray spent heavily on players in January, bringing in former Chelsea striker Didier Drogba and Netherlands attacking midfielder Wesley Sneijder from Inter.
Terim, who is also the Turkey manager, was voted out of the Galatasaray job at a meeting of the club's board of directors after rejecting a contract extension.
This is the second time Mancini has succeeded Terim at a club, having replaced him at Fiorentina in 2001.