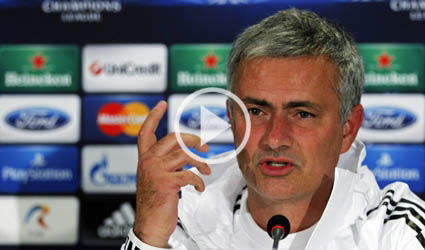 (Reuters) – Chelsea manager Jose Mourinho cut short his Champions League news conference in Bucharest on Monday and walked out after becoming riled by questions about his team selection.
Mourinho, preparing for the London club's Group E match against Steaua on Tuesday, was upset after being quizzed over the omission from the squad of midfielder Kevin De Bruyne.
The Chelsea coach said he was not impressed with the way the Belgian played last week against Swindon Town in the Capital One (League) Cup, nor with his recent performances in training.
"He was not selected. It was my decision. I try to decide by what they do on the pitch and what they do in training," Mourinho told reporters.
"You have this tendency to only ask about the guys who were not selected," added the Portuguese manager, referring to recent media reports about Juan Mata's Chelsea future.
"This is fantastic. Nobody asks me about Mata. You are for three weeks speaking about Mata, now you're speaking about Kevin De Bruyne. You're not interested in the players who are playing – you're interested about the players who are not playing."
He then abruptly rose from his seat, saying "see you tomorrow", leaving behind bemused midfielder Frank Lampard, who sat next to him during the news conference.
Chelsea, surprisingly beaten at home in their opening Champions League match by Basel, are without forward Eden Hazard after the Belgian picked up an ankle injury against Tottenham Hotpsur in the Premier League at the weekend.
Mourinho had earlier warned of the danger of underestimating the Romanian champions.
"Steaua have the level to compete in this group, fight for points and try to qualify for the next round," he said.
"They are a good team and well organised because the coach is good, but last year we lost here and that's good for me."
Steau lost their opening Champions League game 3-0 at Shcalke 04.