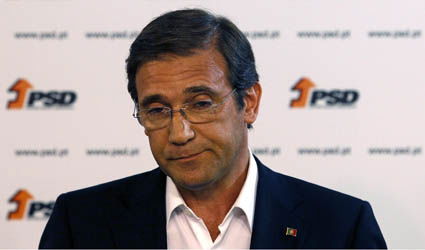 LISBON (Reuters) – Portugal's ruling Social Democrats took a heavy beating in Sunday's local elections as voters passed their verdict on national austerity measures accompanying the country's 2011 bailout by international lenders.
The elections, for 308 municipal mayors, took place during a review visit by officials from the lenders, the European Union and International Monetary Fund, during which they are expected to demand more spending cuts.
Preliminary election results released early on Monday showed the vote boosting the main opposition Socialists, with 36.3 percent of votes counted so far, while the Social Democrats (PSD) had polled 26.5 percent.
Independent candidates also advanced, winning the country's second-largest city of Porto and its industrial satellite city of Matosinhos, a traditional Socialist bastion.
Prime Minister Pedro Passos Coelho acknowledged that the centre-right government was taking a hit for its austerity measures, which have contributed to Portugal's worst economic crisis since the 1970s, with two and a half years of recession and record unemployment.
"We know there's always a price to pay in politics," said Passos Coelho. "But we also know that this path will give us the chance to end our bailout programme and recover our opportunity to grow and give more social justice and prosperity for all."
With 25 of the 308 results still to be declared, the Socialists were already up five at 137 mayors elected against 100 for the PSD, down from 137. The PSD's worst previous record was a haul of 114 mayors in 1989.
The PSD's coalition partner, the CDS, had five, the Communist-Greens alliance had 30, while 11 independents were elected, up from seven, after a record 80 stood.
Full election results will not be ready until later in the day, the interior ministry said. Officials had predicted delays because of a new vote counting system following the merging of many local councils.
Socialist leader Antonio Jose Seguro said the results showed "an enormous will for change" among the Portuguese, while analysts put it down to voter fatigue with the waves of spending cuts and the biggest tax hikes in living memory.
The local results have no direct bearing on national government.
Passos Coelho, whose government nearly collapsed in July over a dispute about austerity, said he would continue policies to complete the bailout plan as scheduled in mid-2014.
The government has promised spending cuts of more than 4 billion euros by the end of 2014 in order to meet its budget deficit goals, but has been facing growing resistance at home from business groups, unions and the opposition, which want it to negotiate a new easing of the targets.