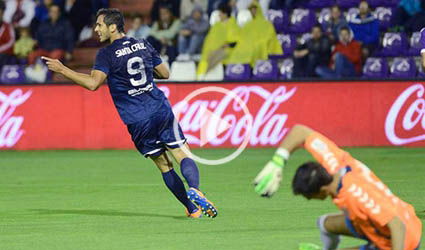 Malaga CF drew 2-2 with Real Valladolid in the 7th BBVA League match of the season. Bernd Schuster's men opened the scoring with a goal from Santa Cruz, made possible with a fantastic assist from Tissone. Goals from Javi Guerra and Osorio put Valladolid ahead in the second half, until Pawlowski evened things up with Malaga's second goal of the night.
Malaga arrived in Valladolid with the intention of continuing the good run of results achieved over the past few weeks.  Bernd Schuster selected four different players in tonight's starting-11 at the Jose Zorrilla stadium, compared to last Tuesday's game against UD Almeria.  Camacho, Pedro Morales, Eliseu and Santa Cruz were included in tonight's starting-11, in place of Sergi Darder, Duda, Anderson and El Hamdaoui.
 
The first half got underway with a very clear chance for the locals via Osorio, who was unmarked in the goal area, but unable to put his team in front.  It took Malaga a while to get comfortable on the pitch, with Portillo creating the first opportunity 10 minutes into the game moving quickly upfront to set up a great ball for Pedro Morales, however he went wide of the target.
 
The Blue and Whites defended well against a determined Valladolid.  Juan Ignacio Martinez's men had several chances to take the lead, but were unable to cut through the solid Malaga defence.  Bernd Schuster's team began to take the reigns of the match, and their hard work paid off half way through the first half.  A fabulous assist from Tissone allowed Santa Cruz, unmarked in front of keeper Mariño, to open the scoring.  A free kick from Pedro Morales could well have increased the Blue and Whites' lead, but the ball hit the crossbar.
 
The second half kicked off with another chance for Osario, this time with a header, but again failed to find the net.  However the local side's determination soon paid off.  Both Javi Guerra and Osorio scored in the first 20 minutes of the second half, to put Valladolid 2-1 ahead.
 
Bernd Schuster made a few changes, introducing El Hamdaoui and Pawlowski, with immediate results.  Following a pass from Gámez, Polish-born Pawlowski showed amazing ball control to net an incredible equaliser.  The 'Malaguistas' were determined to regain the lead up until the final whistle, but a long ball and two good saves by Mariño, resulted in the 2-2 draw.