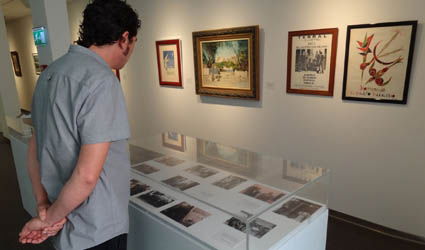 AN exhibition of works by Andalucian artists influenced by Picasso can be seen at the Sala Siglo Unicaja in Malaga until November 15.
The Unicaja Foundation has organised the exhibition entitled 'Picasso: origins and influences on art in Malaga and Andalucia', which has more than 50 works by artists who influenced or were influenced by the Malaga artist, Pablo Ruiz Picasso.
They include Denis Belgrano, Joaquin Peinado, Enrique Brinckmann, Verdugo Landi, Blanco Merino, Enrique Florido, Revello de Toro, Damaso Ruano, Rafael Alberti, Manuel de la Cuesta y Ramos, Martinez de la Vega, Marin Higuero, Labrada, Eduardo Navarro, Francisco Peinado, Evaristo Guerra, Moreno Ortega, Leonardo Fernandez, Diaz Oliva, Jose Seguiri and Carlos Duran.
The exhibition is in Plaza del Siglo, first floor, in Malaga, open from Monday to Friday from 5pm to 8pm, and will later travel to other Andalucian cities.
One of the aims of the exhibition is to allow visitors to understand the personality and originality of Picasso and its relationship with the influence other artists had on his work.
It also shows his influence on a group of artists, some of whom were his friends, and others his admirers.