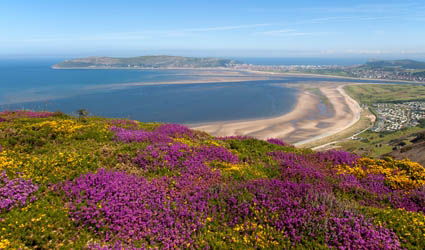 I HAVE nothing against the Welsh. After all, as man and boy, I was blissfully happy in the land of someone else's father.
However, not everyone agrees. Their most famous lyricist, Dylan Thomas once said, "Land of my fathers? They are welcome to it."
The Welsh comedian, Max Boyce, did not share his sentiments. Tongue in cheek he reminded the English that if an iron was run over Wales then his land would be bigger than England once the wrinkles (mountains) were ironed flat.
The Welsh sense of humour tends to be sardonic. What do you call an Englishman in the knockout stages of the world Cup? The referee.
There is delicious rivalry. What do you call a Welshman with several sheep?  A pimp. Their brand of humour can be enlightening. I recall using a lane approaching a Welsh farm. The notice said, Slow! Free Range Children.
Noted for their sullen insularity the Welsh are notoriously anti-stranger. I thought it was because they thought me English. No, my son, who hails from Wrexham, said: "They show dislike for me too." 
Whoever penned the lines There'll be a Welcome in the Hillside / There'll be a Welcome in the Vale, should be dragged before the courts for misrepresentation.
I have asked locals in real Welsh-speaking Wales, the Lleyn Peninsular, Anglesey and Snowdonia if it is true that they do not welcome visitors.
Agreeably they agree.
Venting my frustration with a friend who lives in Llangollen. "Everywhere else changes," I said, "but not Llangollen, Corwen, Bala, and Anglesey.  If one of Owain Glyndwr's warriors were to re-visit he would not see change."
"That is music to my ears," she told me.
A neighbour in our Welsh village hailed from Birmingham. "All I can see is bloody mountains."
"Oh," my mother sympathised. "Perhaps we should drill holes through them for you."
"And what would you see," he retorted. "More bloody mountains."
It has been said that the Welsh are the Irish who could not swim.  At the time of the first millennium, when Saxon immigrants were overrunning Shakespeare's sceptred isle, the Britons (the Welsh to you and me) retreated towards the West.  An early form of 'white flight', the then indigenous locals looked upon the new English as smelly heathens.
I am not sure if the enmity between the Welsh and the English is genuine or teasing.  I think the latter for in truth I was very happy in Wales.
They can be quirky, but who isn't?  One thing I do love of theirs – two actually. Their male voice choirs that bring a lump to my throat, especially when they sing Myfanwy.  And of course their flag. I could die for their flag. Cymru am byth.