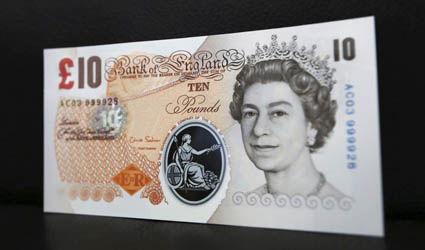 LONDON (Reuters) – G4S, the world's biggest security firm, will team up with French group Oberthur Technologies to bid for a 1 billion pound ($1.61 billion) contract to supply Britain's next wave of banknotes, a source familiar with the situation said.
The Bank of England has invited bids for a new 10-year contract to produce all its banknotes, which for the first time could come in plastic form if the plans are given public backing in December.
A source told Reuters that G4S, the group that drew fierce criticism last year for failing to provide enough security guards for the London Olympics, would provide services like cash handling and security alongside Oberthur's printing expertise.
G4S, which as well as cash transportation for banks and retailers runs services like prisons and immigration centres in some 125 countries, declined to comment.
Smartcard maker Oberthur could not be reached for comment and the Bank would not comment on the bid process.
The contract is due to start in April 2015 and includes the option of a three-year extension.
British firm De La Rue, which has held the contract since 2003, is rebidding for the contract. Media reports have said other bidders could include Munich-based Giesecke & Devrient, Landqart – the bank note division of Canadian firm Fortress Paper, and UK-based Innovia Security.
The BoE has issued paper banknotes ever since the central bank was created in 1694 as a way of raising money for King William III's war against France but is now keen to go plastic.
Polymer banknotes, as well as being hard to fake, are durable and stay cleaner for longer because the material is more resistant to dirt and moisture, the BoE have said.
De La Rue entered the polymer market earlier this year with deals to supply Fiji and Mauritius.
Led by new boss Ashley Almanza G4S is embarking on a turnaround plan after a string of blunders by his predecessor Nick Buckles, including a failed takeover bid in 2011, the botched London 2012 contract and a profit warning in May.
In August it raised 348 million pounds through a share sale and earmarked more cash to come from asset disposals, as it seeks to cut debt and increase its focus on emerging markets growth.