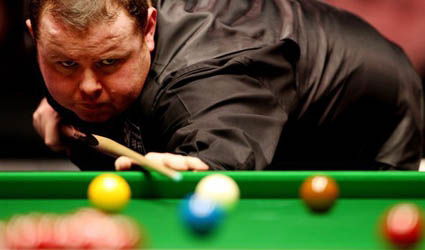 LONDON (Reuters) – British snooker player Stephen Lee was handed a 12-year ban for match-fixing on Wednesday that will effectively end his top level career in the game.
The World Professional Billiards and Snooker Association (WPBSA) said in a statement that the former world number five was barred from playing until Oct 12, 2024, which will be his 50th birthday.
The ban has been timed from the start of his initial suspension last year.
Lee, 38, was also ordered to pay 40,000 pounds ($63,900) towards the 'considerable' costs of the investigation and hearing.
"I'm absolutely devastated. I've done nothing wrong and I'm totally innocent," Lee told reporters.
He has always denied the allegations, which relate to seven matches played in 2008 and 2009 including the UK and world championships, and said he was confident of winning an appeal.
The WPBSA had described it as "the worst case of snooker corruption we've seen".
Lee was found guilty at an independent tribunal hearing held from Sept 9-11 of "agreeing an arrangement… (and of)… accepting or receiving or offering to receive… payment" for influencing the outcome or conduct of matches.
WPBSA chairman Jason Ferguson said the ban "demonstrates our commitment to ensuring that snooker is free from corruption.
"It is an important part of our anti-corruption approach that players found to be involved in fixing matches or any aspect of a match are severely dealt with.
"The message we are sending is that if you get involved in match fixing you will be found out and removed from the sport."
INSIDE INFORMATION
Lee was accused of giving inside information to associates, who then bet on the basis of it and passed it to others to do the same.
Lawyer Adam Lewis, in his written decision for independent arbitration body Sport Resolutions, said it had not been established Lee deliberately lost a match when he could and should have won.
"Rather it is established, on the balance of probabilities, that Mr Lee acted improperly in relation to matches that he either believed he would lose, or that he believed he would win sufficiently comfortably that he could drop the first frame," the barrister wrote.
"Mr Lee did not strike me as a cynical cheat, but rather as a weak man who, under financial pressure, succumbed to the temptation to take improper steps that he may well have justified to himself as not really wrong, because the ultimate result of the match, win or lose, was the same."
Lewis said a life ban had not been imposed because it was not deemed proportionate, in the circumstances, or necessary in order to deter.
He pointed out also that at the time the offences were committed, there was no stipulation in WPBSA disciplinary rules that any player found guilty of match-fixing should incur a life ban in the absence of exceptional mitigating circumstances.
Former professional Willie Thorne said Lee's 12-year suspension amounted to the end of the player's career.
"I think it is a life ban," he told Sky Sports News. "He'll be 50 when he gets his license back and at that age you've got no chance… I don't think he'll be accepted into the seniors tour either.
"There's a great living to be had in snooker, but not a great living if you're a cheat."