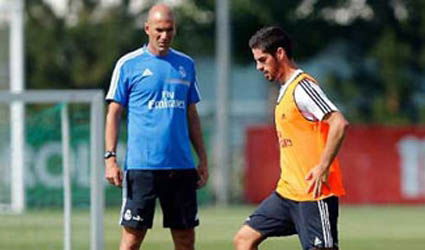 MADRID (Reuters) – Former France and Real Madrid great Zinedine Zidane believes Spain playmaker Isco could be almost as good as him one day, club coach Carlo Ancelotti said on Tuesday.
Isco, 21, has become a firm favourite since joining the nine-times European champions from Malaga in the close season for a fee of 30 million euros ($40.5 million).
He has netted four goals in five La Liga appearances, the same as Real's Portugal forward Cristiano Ronaldo, and also scored in last week's 6-1 Champions League victory at Galatasaray.
"For Isco to be compared with Zidane is not bad after the few games he has played," said Ancelotti of the Frenchman who is now one of his assistants at the Bernabeu.
"He is very similar in terms of ability and mentality," the Italian told a news conference. "I asked (if Isco was as good as him) and Zidane said 'no, not yet but he could be very close in the future'."