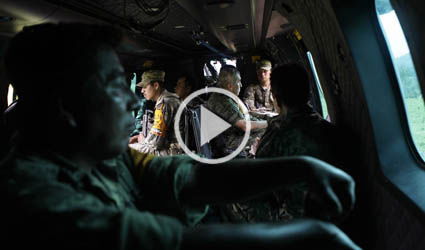 ACAPULCO (Reuters) – The death toll from a pair of storms that flooded much of Mexico rose to 123 on Monday, and large tracts of farmland were declared lost as the country cleans up some of the worst storm damage in decades.
Miguel Angel Osorio Chong, Mexico's interior minister, gave the new estimate of casualties from last week's Tropical Storm Ingrid and Hurricane Manuel at a news conference in the heavily damaged Pacific resort city of Acapulco.
He added that some 59,000 people had been evacuated from their homes as recovery efforts continued across the country.
The agriculture ministry declared 613,000 hectares (1.5 million acres) of planted land "completely lost" as a result of the storms, or about 3 percent of the country's total farmland.
It was unclear which crops were most affected, but a top official with Mexico's sugar chamber said earlier on Monday that the upcoming sugar harvest will be largely unscathed by the flooding.
In southern Guerrero state, the most severely hit, dozens of people were still missing and feared dead after a mudslide caused by torrential rains buried 40 homes in La Pintada.
Five corpses were dug up from the village on Monday.
President Pena Nieto said over the weekend there was little hope anyone had survived the village mudslide.
On Sunday, the president said Mexico's Congress will revise its proposed 2014 budget to allow for more disaster spending beyond the roughly 12 billion pesos ($938.91 million) available in emergency funding.
The government is expected to provide a preliminary report of the country's damaged infrastructure on Tuesday.