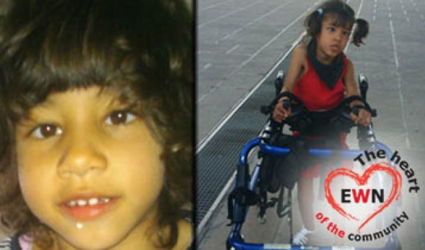 By Dilip Kuner
A LITTLE girl who desperately needs intensive therapy will get her treatment thanks to a local expatriate charity shop.
Last week the Euro Weekly News reported how the family of five-year-old Cerebral Palsy sufferer Keira faced a race against time to raise €2,500 after a disappointing turnout at a fundraiser.
After reading of her plight John Griffiths of the Moraira Charity Shop was so moved he got in touch with the family and pledged to pay the full cost of the treatment.
That has left Keira's mother, Debbie delighted. She said: "I want to thank them a million times. Thank you so much to everyone there, and thank you to the Euro Weekly News for publishing the story.
"One minute I was lying in bed with a migraine trying to think what I could do to raise the money, the next an email popped up from John with the offer. You can imagine the relief I felt."
The Euro Weekly News reported how Keira was booked in for intensive therapy not available on the NHS due to start in October. It was timed to start six months after an operation on her legs she underwent on May 14 – the optimum time for the best results.
Debbie also paid tribute to the expatriate community on the Costa Blanca. "Over the years they have given us 95 per cent of the help we have had". With the therapy bills paid any extra money raised will go for accommodation costs and living expenses as the therapy sessions are held in Barcelona.
John said: "When I read about Keira we just had to help. Everyone on the ruling committee felt it was a very deserving cause. We have a large pot of money for deserving causes. People who need help can get in touch and we will consider their application" More information: www.morairacharityshop.com.