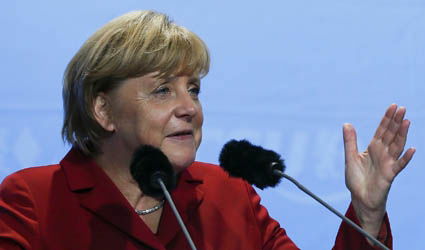 BERLIN (Reuters) – Chancellor Angela Merkel looked on track to win a third term in a weekend election in Germany but faced a battle to preserve her centre-right majority and avert a potentially divisive coalition with her arch-rivals, the centre-left Social Democrats (SPD).
The vote on Sunday is being watched across Europe, with many of Berlin's partners hoping it will bring about a softening of the austerity-first approach Merkel has promoted since the euro zone debt crisis broke out nearly four years ago.
But the prospect of major shifts in her euro policy are slim, even if she is forced into a "grand coalition" with the SPD, whose candidate Peer Steinbrueck has criticised the chancellor for choking off growth in southern members of the currency bloc by insisting on spending cuts and painful reforms.
"Germany remains committed to euro zone membership, but public opinion and institutional constraints … limit the scope for any German government to drastically alter course towards more generous support policies," analysts at Citi Research said in a research note.
Two days before the vote, a survey by Forsa for private broadcaster RTL showed Merkel's conservatives — the Christian Democratic Union (CDU) and its sister Bavarian party theChristian Social Union (CSU) — 14 points ahead of the SPD, meaning she will almost surely return for a third term.
But her combined centre-right bloc, which includes the business-friendly Free Democrats (FDP), was in a dead heat with left-leaning opposition parties, with both camps on 45 percent.
That makes the election in Europe's largest economy too close to call.
Merkel could win a narrow majority with the FDP, her preferred partner, or fall short and be forced into difficult negotiations with the SPD which could last up to two months and result in big changes to her cabinet, including the departure of Finance Minister Wolfgang Schaeuble, a key player in the crisis.
The wild card is a new anti-euro party, the Alternative for Germany (AfD), which polled 4 percent in the Forsa survey but is given a decent chance of vaulting above the 5 percent threshold needed to win seats in parliament on election night.
That would doom Merkel's hopes of continuing her current coalition and stir concerns about rising German euroscepticism, though its impact on government policy would likely be limited.
UNDECIDED VOTERS
Also complicating forecasts is a large group of undecided voters, estimated by pollsters at more than 30 percent.
"I still don't know who I'm going to vote for," Anja Brueckmann, a secretary who usually votes for Merkel's CDU, told Reuters in Berlin. "I keep listening to all this talk from the politicians but no matter who wins nothing changes."
Merkel, 59, would be only the third post-war German leader, after Helmut Kohl and Konrad Adenauer, to win three terms. After Jean-Claude Juncker of Luxembourg and Andrus Ansip ofEstonia, she is Europe's longest-serving leader.
Hugely popular at home for her steady "step by step" leadership during five years of global and euro zone financial crisis, supporters have taken to waving "Mutti" (Mum) signs at rallies, reflecting her image as a caring mother of the nation.
She has presided over a robust economy and booming labour market. At 6.8 percent, the German jobless rate is roughly one-quarter that of Greece, which stands at more than 27 percent.
"Germany has had four good years. We accomplished a lot together," Merkel said in a CDU campaign letter received by over 5 million German households on Friday.
Merkel's critics deride her as a reactive, risk-averse leader whose policies have slavishly followed public opinion, instead of shaping it. They say Germany's economic success is largely down to reforms introduced a decade ago by her predecessor, SPD chancellor Gerhard Schroeder.
Merkel, who grew up in communist East Germany as the daughter of a Protestant pastor, became chancellor in 2005 after narrowly beating Schroeder.
Because of her razor-thin margin of victory, she was forced into the first 'grand coalition' between Germany's two biggest parties since the 1960s. After winning re-election in 2009 with the FDP, she may have to look to the SPD again after Sunday.
This time the process may not be as smooth.
"The (SPD) lost 13 percent of the vote during its last partnership with Chancellor Merkel and is highly concerned about the potential long-term electoral repercussions of repeating the arrangement," said Alex White of JP Morgan in London. "SPD leaders will push for the most advantageous possible deal, likely extending negotiations for a period of many weeks."
In the talks, the SPD is expected to push for a nationwide minimum wage, a tax rise for higher earners and also key cabinet posts, including possibly the finance and foreign ministries.