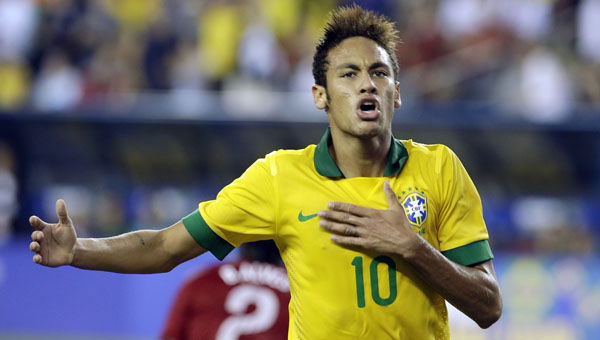 With one of the top players in the world sidelined, another international superstar put on a show. Neymar scored once and set up Brazil's other two goals during a 3-1 victory over Portugal in a friendly on Tuesday.
"He has been playing very well for three, four years," Brazil coach Luiz Felipe Scolari said through a translator. "Only once in every 15 or 20 games does he not play what he knows how to do.
"But normally, Neymar is this."
Thiago Silva and Jo also scored for the Confederations Cup champions and 2014 World Cup host before 62,310 fans at Gillette Stadium.
The result may have been different, though, had Portugal been playing with Cristiano Ronaldo, who was absent dealing with tendinitis.
Ronaldo, the second-highest goal-scorer in Portugal's history, played through pain on Friday, according to team doctor Henrique Jones, recording his first international hat trick in a World Cup qualifying victory over Northern Ireland.
"Naturally, he has a great influence on the way we play. But we didn't lose this game due to his absence," Portugal coach Paulo Bento said through a translator.
Scolari wasn't too disappointed Ronaldo didn't play.
"I don't miss him a lot," he said with a laugh. "He would complicate our life a lot more."
Three days after defeating Australia 6-0, Brazil came out sluggish.
After hitting the post with a header in the 11th minute, Raul Meireles gave Portugal a 1-0 lead in the 17th when he intercepted a misplayed header by Brazil defender Maicon.
Brazil answered in the 24th when Neymar's corner kick found the head of Silva, who rose high in the box and drove the ball past goalkeeper Rui Patricio.
Neymar put Brazil in front for good in the 34th, deftly dribbling 35 yards past at least five Portugal players before sending a shot into the lower left side.
He later slid a pass up the sideline to Maxwell, who centered a ball that Jo easily put into the back of the net in the 49th.