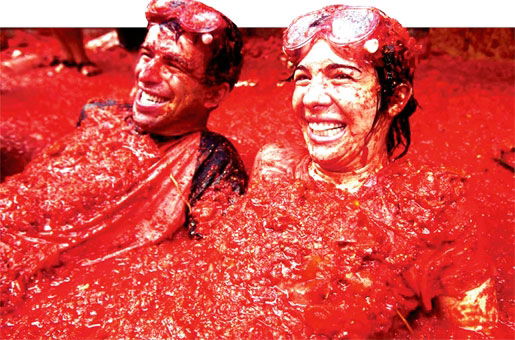 ONE of the strangest of all annual Spanish festivals takes place next Wednesday. La Tomatina in Buñol will this year see revellers throw an estimated 150,000 tomatoes at each other. 
Held as part of week-long village festivities, six years ago the event was declared a Festival of International Tourist Interest, and for the first time this year, tickets priced €10 will be restricted to 20,000 revellers – 5,000 tickets for locals and 15,000 for the public – after 45,000 arrived for the event in 2012! 
The event began in 1945 when fighting youths in the village square threw tomatoes at each other from a nearby vegetable stall before police broke up the fight. For several subsequent years they repeated it, bringing their own tomatoes and eventually – after at one time being banned – the tradition was established with rules.
The town hall in the Valencian village took over organisation in 1980, with tomatoes squashed before throwing to avoid injuries. 
Once the start of the mid-morning fight is given, tomato-laden lorries enter the village centre and exactly one hour later the fighting ends. 
Fire trucks hose down the streets and revellers use hoses that locals provide to remove the tomato paste from their bodies.