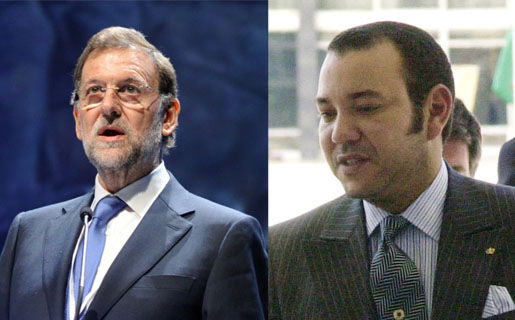 IT sounds as good a story as any.
Apparently it wasn't Spain's fault that Daniel Galvan Viña, an Iraqi-born paedophile equipped with a Spanish identity, was freed from a Morocco jail.
King Juan Carlos, on good-buddy terms with Mohamed VI, asked for a royal pardon for Spanish prisoners during his recent visit to Morocco.  It was a nice piece of positive publicity for Juan Carlos and everyone was happy for a while.
But the Moroccans got it wrong, Spain later insisted. 
Galvan's name was on a list of 30 prisoners for whom the government had requested repatriation to Spanish jails, not the 18 candidates to be pardoned, Madrid claimed. 
Instead all 48 were pardoned and protests began in Morocco because Galvan was serving a 30-year sentence for sexually abusing children as young as three.
Mohamed VI revoked the pardon and the now-free Galvan was arrested in Murcia. 
Galvan, born in Basra, claims he obtained Spanish nationality through marriage.  Other sources say it was for services rendered but the CNI intelligence agency predictably denies that he ever worked for them.
Sobering, though, to ponder that without the Moroccan outcry Galvan would be walking free. And raping children again.
Going through the motions  
RAJOY made his excuses about Barcenas to the Spanish parliament. 
He swallowed hard and spat out the lethal name of the PP's disgraced and unmentionable ex-treasurer16 times.
He erred by trusting someone undeserving of trust, Rajoy said. As expected, he convinced supporters and dissatisfied detractors.
Having sat throughout the opposition parties' responses to his speech Rajoy then read his ready-prepared, pre-cooked reply.   
His huge parliamentary majority affords him the luxury of not needing to listen to fellow politicians and Rajoy wasn't there to explain himself to the Opposition.  He was there for the voters who brought him to power in 2011. 
The people he needed to placate were the waverers who, according to pollsters, were more ready to believe Barcenas than Rajoy.  Sadly for Rajoy, most still do.
Foregone conclusion
MUCH of the resentment over Barcenas stems from the alleged illegal funding which gave the PP an unfair advantage over other parties. The herd instinct is a human failing but those supposed oodles of irregular donations did not push voters towards the PP in the 2004 and 2008 elections.  And Rajoy triumphed in 2011 because Zapatero had already lost the election back in the economically-disastrous summer of 2010.
Clean as a whistle
ARTUR MAS has his own illegal funding scandal.  
Cataluña's regional president also heads Convergencia Democratica de Cataluña, half of the governing Convergencia i Unio coalition. 
Contracts allegedly awarded in return for munificent party donations had nothing to with him, he says.  CDC's now retired 78-year-old treasurer had total power and Mas always believed him implicitly.  If wrong-doing occurred it was without his knowledge, he piously intoned.
How Rajoy must envy Mas!  How fortunate to wash one's hands instead of wringing them!