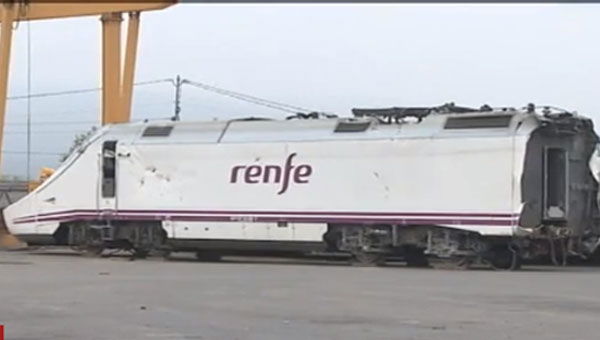 The judge in charge of the investigation into the Santiago de Compostela train derailment killing 79 passengers will not be holding criminally responsible the Renfe employee who rang the driver minutes before the accident.
Judge Luis Alaez has ruled from the recordings on the black box that the conductor, Antonio Martin Marugan of the train made the call two minutes before the site of the crash. This was calculated as being around six kilometres away from the sharp bend.
Martin will be testifying as a witness in the case. Garzon, the driver has been provisionally charged with 79 counts of homicide and other violations which relate to the other injured passengers – 170 of them. There are 57 of them in hospital still and 11 of them are in critical condition. They are in different hospitals in Satiago.
Martin was a passenger of the train that was travelling from Madrid to Ferrol and acknowledged that made a call to Garzon's corporate phone to ask him to stop at a particular part of the Pontedueme station of A Coruña upon reaching the Galician city. He supposedly asked the favour to help a family that was travelling with children. The Renfe regulations prohibit any calls to be made to the driver unless of an emergency.
He reportedly did not come forward any sooner and tell the police about the phone call as he wanted to protect his friend Garzon.
The judge ruled that it "was unfortunate because of the time and place." He continued to say that it "wasn't sufficient enough to hold him criminally responsible for carelessness in regards to the train accident."
As of now, Garzon is the only person who looks to be responsible.