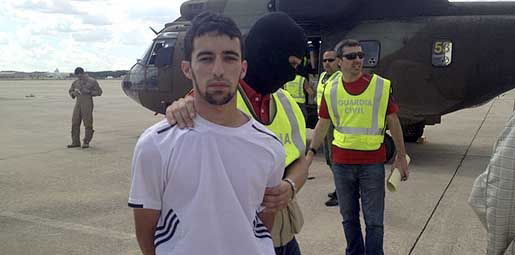 EIGHT Spanish nationals were arrested in the enclave of Ceuta in North Africa for their alleged ties to Al Qaeda. They were allegedly linked to a network of Jihadists who were recruited in Spain and sent to countries such as Syria, according to the government delegation in Ceuta. 
The Interior Minister, Jorge Fernandez Diaz, said this had been a "hard blow" for terrorism in Spain. Following the arrests, the National Court has ordered searches of several properties and further arrests have not been ruled out.
The network sent people from Morocco, Ceuta and other parts of Spain, such as Malaga, to Syria via Turkey, paying for the trips of the people they recruited. After being instructed in the ways of Al Qaeda, they were sent back to Europe to incite and commit terrorist attacks. Some of them may have taken part in terrorist attacks.
The detainees are charged with belonging to a terrorist organisation.