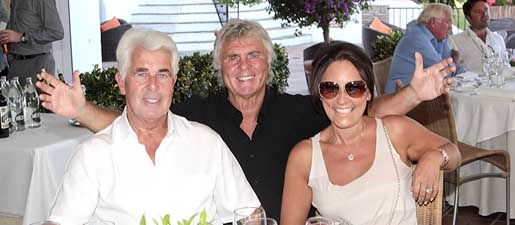 THE Max Clifford Celebrity Golf Challenge in aid of the Rhys Daniels Trust was another success, with a few laughs along the way. After practice games, the players attended a welcome dinner at La Cala Resort, hosted by patron of the charity, Max Clifford.
Steve Sheen, husband of the charity's other patron, Pauline Quirke, was MC for the evening and entertained guests along with singer Tee Green.
Tee Green told guests he wanted to beat American soul singer Bill Withers' record for holding the longest note. Someone had a stopwatch and Tee pulled off his personal best, hanging on to a note for 40 seconds, allegedly!
But Scouse comedian Stan Boardman could not just sit back and listen. He wanted to get in on the act and have a go. A reliable source told the Euro Weekly News (EWN) that Stan's attempt "was like Muslims being called to prayer. He was just wailing, but it was very, very funny."
But have-a-go Stan had the last laugh later when it came to the serious business of golf. He won the individual celebrity player award. Golfers also enjoyed a poolside barbeque and in charge of the proceedings was Talk Radio Europe's Bill Padley.
Entertainment was provided by The Lecheritas, Tee Green and Hitman and Her (Bill Padley and Karen Danzig). The golf competition was played over the weekend on La Cala Resort's Asia and America courses.
Team McHugh – Sean McHugh, Malachy Dunleavey, Brian Briggs and Stan Boardman – took the overall prize and the prestigious Rhys and Charly Cup.
The event was sponsored by the EWN, HiFX, CFC Capital, Harley St. Clinic, John Brodie and Knowles Basement Construction. The final figure raised will be announced as soon as all the information has been collated.
The Rhys Daniels Trust provides 'Home from Home' accommodation for families of very sick children receiving treatment many miles from home. The focus is on keeping families together at a very stressful time and providing a sense of normality when life is anything but 'normal'.