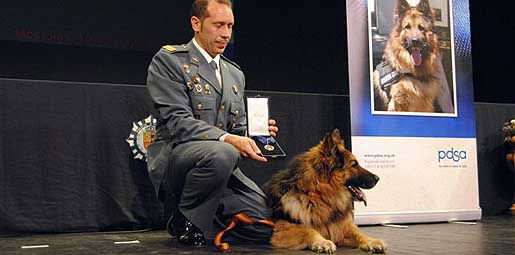 AHERO Spanish police dog has been awarded a rare gold medal by the UK's People's Dispensary for Sick Animals. Ajax, a 12-year-old German Shepherd, prevented a terrorist attack in Mallorca in July 2009 when he detected a bomb, which made him internationally recognised. 
He is now retired and putting his paws up out of the line of fire in Malaga. His handler says he had always worked impeccably, looking out for the safety of the Spanish Royal Family and Prime Minister. 
The Dicken medal is equivalent to the Saint George's Cross for bravery and has only been given to 22 dogs, of which only two come from outside the UK. 
Ajax worked for the Guardia Civil from 2004 until his well earned retirement in 2012. His former handler, Juan Carlos Alabarces, still takes him out often to exercise. 
The medal was presented at the Teatro del Bosque in Mostoles, Madrid, as part of the Fourth International Police and Military Canine Handlers' Days. It is the first time that a Spanish dog has received the medal.
On the day he found the bomb, which had been placed underneath a vehicle near the Guardia Civil barracks, Ajax sat still next to the vehicle, while the area was evacuated. The bomb was detonated in a controlled environment. His work is claimed to have saved the lives of many people, including his handler.