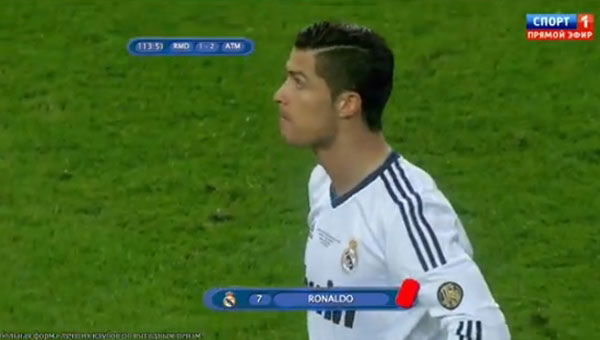 Atletico Madrid succeeded in beating Real Madrid in the Copa del Rey with a 2-1 victory at the Bernabeu stadium. Both teams ended the game with only ten players on the field. Cristiano Ronaldo gave Real an early lead with a fine header before Diego Costa evened up the score  once more. Real had plenty of chances but the goals missed the net  three times and  then on other occasions by some fine saves by Courtoisin the Atletico goal prevented any more.
After ninety minutes it was 1-1 and the teams had to go on to play extra time. It was a last minute strike from Miranda which changed the final result and the trophy was all for Atletico, with their first victory over their city rivals for fourteen years.
There were a lot of dubious fouls and play acting throughout the second half, particularly during extra time, and the referee was kept very busy issuing different coloured cards.
Real Madrid's coach Jose Mourinho was the first to receive a red card when he was ordered from the touchline for protesting too much about the referees decision in the 76th minute. Cristiano Ronaldo was the first player to be dismissed after he seemd to kick Gabi in the face and then right at the very end, Gabi was sent off.
Players and club officials unfortunately clashed on the touchline and the Atletico keeper, Courtois, was hit on the head by something thrown from the stands.
During the match,there were a total of 13 yellow and 3 red cards issued.