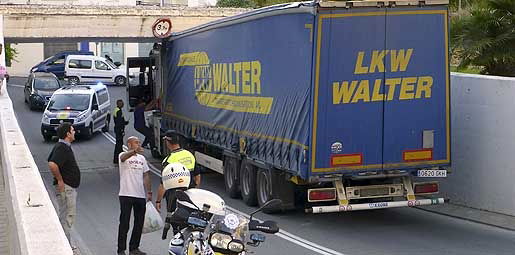 OOPS! This lorry driver decided he knew better than the warning sign. Hoping to squeeze under this railway bridge in Altea he was left with a red face when he got stuck.
And it took Local Police to divert traffic away and clear a path before the driver could extricate his truck from the jam he had got into. After letting air out of his tyres to lower the lorry's height he reversed out of his predicament, last Friday.
Traffic problems were kept to a minimum as drivers found alternative routes. Then with nothing worse than a crumpled aerial, dinted container and maybe a slightly bruised ego for the driver, the lorry was on its way.