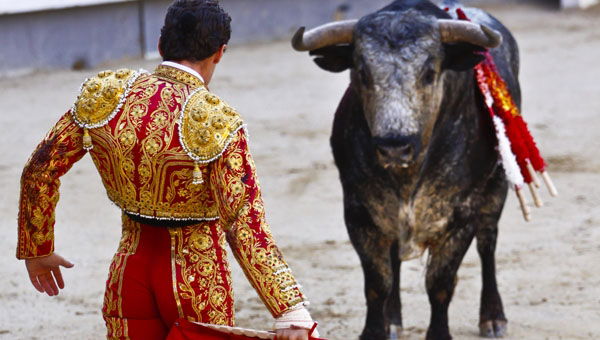 IF your social calendar in April is looking a tad sparse, how about venturing to the Madrid for that age-old tradition of bullfighting.
As synonymous with Spain as flamenco, straw donkeys and siestas, most of us have long since chosen which side of the ethical bullring we sit on vis-a-vis this sanguinary pastime and dubious form of entertainment.
Yet, it keeps pulling in the crowds of Spaniards and foreigners alike and, taken at face value, it is a dramatic injection of culture compactly presented in just over a couple of hours.
Even if you don't know your matadors from your picadors, the costumes, such as the traje de luces (suit of light) and the capote (cape in magenta and gold) are more eye-catching than anything from Downton Abbey.
Be warned – should you choose to attend – there are allegedly some fairly gut-wrenching scenes to be played out and children under 14 are not allowed, though I understand this rule is not tightly enforced.
The state-run Spanish television cancelled live coverage in 2007 believing it to be too violent for younger viewers. It is a far cry from Munro Leaf's story of Ferdinand, animated by Walt Disney in 1938, about a bull which prefers to smell the flowers than to fight.
Granted, many attempts at making bullfighting more humane have been made and the bulls sometimes give as good as they get. But in the end it is a prime example of man's longstanding need to show his supremacy over animals, which don't stand a chance.
Another example of such traditions – or rituals, if you prefer – is throwing a live goat from a church steeple to its death some 50 feet below. The Goat Throwing Festival was finally banned in 2002, perhaps because there was little pomp and circumstance to dress this event up as cultural, despite the odd futile attempt to catch the plummeting goat.
Equally, the annual Toro de la Vega festival in the town of Tordesillas, in the region of Castile-Leon centres on killing a bull in a field with spears with all costume fineries by-passed.
Bullfighting is not exclusive to Spain.  It has been a tradition in much of southern Europe, and has also been seen as far afield as Latin America and the Philippines.
Nor is it the only blood sport to have divided public opinion across the world: Fox hunting, dogfighting and cockfighting spring to mind, although they are now banned in many countries and regions.
Supporters reason that bullfighting is ingrained in the pattern and culture of the nation; a ritual that inspired Bizet to write his opera, Carmen, Pedro Almodóvar to shoot his lauded film Talk to Her and also featured prominently in many works by Ernest Hemingway. 
Whichever way you view bullfighting, there would be no supply without demand. Enough people still want to see the matadors strut, the crowds chant and the beast bleed. Perhaps we have not changed that much since the Roman days of gladiators; our basic need for blood and gore remains entrenched in our culture and society. 
Many regions, including Catalonia, have now banned bullfighting, but Madrid and Andalucia remain at the epicenter, with the season running from late March until October.  Personally, I will make do with watching a re-run of the peace-loving bull Ferdinand.