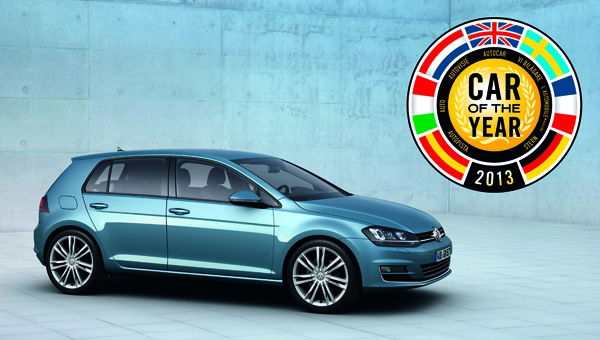 THE new Volkswagen Golf has been named winner of the prestigious Car of the Year 2013 award.
The VW won by a large margin with 414 points, well ahead of the Toyota GT86/Subaru BR-Z with 202 points and the Volvo V40 with 189 points. 
A jury of motor writers from across Europe chose the car – one of the all-time best selling cars –  for the first time since the third generation Golf  won the award in1992.
It and Renault's Clio are the only cars to have won more than once.
Every generation of the Golf has finished in the top three of the Car of the Year in the last 38 years.
Hakan Matson, Jury President and automobile expert of the Swedish business paper Dagens Industri said at the awards ceremony at the Geneva Motor Show:"The Volkswagen Golf VII received amazing results in our intensive test drives. It is a modern car with a high level of quality and safety, a wide range of drive trains as well as an outstanding driving performance.
"The Car of the Year winnerhas to show excellence in a number of categories – with special attention to the needs of consumers. All the members of our jury are experts and put the finalists through a series of exhaustive tests to provide substantial purchasing criteria for consumers."
The eight finalists for the 'Car of the Year 2013' were selected from the 32 most significant new models launched this year by a jury of 58 automobile journalists from 22 European countries.
The key criteria for Car of the Year comprise innovation, value for money, safety, quality and design as well as environmental aspects.
While retaining its traditional image, the Golf VII is entirely new under the skin.
Inside the trim is a classic style with traditional looking dials, and is roomy.
Along with an updated ESP stability control system, there is an impressive array of active safety items, such as active braking, not only in the prevention of a collision, but also in the event of an accident, driver fatigue detection, lane-keeping assistance and adaptive cruise control.
The range of engines will be led by the 230 hp GTI and the 184 hp GTD diesel. Among the engines available at launch, all of them fitted with stop&start systems, the 1.4 TSI is offered with the option of VW's ACT deactivation system, which turns off two cylinders at low speeds for better fuel economy.
TECHNICAL DATA
– Body: 3/5-door hatchback
– Size: 4.26 X 1.80 X 1.45 m. Wheelbase: 2.64 m.
– Transmission: Front/all wheel drive. Manual/automatic gearbox
– Petrol engines: 1.2TSI (85&105 hp), 1.4TSI (122&140 hp)
– Diesel engines: 1.6TDi (105 hp), 2.0TDi (150 hp)
– Maximum speed – 0-100 km/h acceleration:
Petrol engines: 179 to 212 km/h – 11.9 to 8.4 s.
Diesel engines: 192 to 216 km/h – 10.7 to 8.6 s. 
Combined fuel consumption – CO2 emissions:
Petrol engines: 4.8 to 5.2 l/100 km – 112 to 116 g/km
Diesel engines: 3.8 to 4.4 l/100 km – 99 to 117 g/km