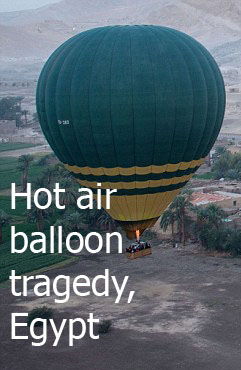 A British man is the only survivor after worst hot air ballon crash in Egypt.
Michael Rennie, 49, leaped from the balloon's basket after the balloon burst into flames. The fire killed his wife Yvonne, 48, and 18 other tourists.
He was taken to hospital in Cairo along with the pilot of the doomed aircraft, and is now in a stable condition. Mohamed Mustafa, a doctor at the Luxor hospital said the fatalities were caused by burns and by the impact.
Britons Joe Bampton, 40, and his girlfriend Suzanna Gyetvai, 34, were among those killed during the early-morning flight over the ancient ruins of Luxor. All four were on holiday with tour operator Thomas Cook.
Egyptian authorities have immediately banned all hot air balloon flights which will be another blow to tourism in Luxor, an area already struggling since the revolution two years ago. 
The bodies of tourists from Britain, Belgium, France, Hungary, Japan and Hong Kong were recovered from the cane field along with gas canisters and wreckage from the balloon.

The pilot survived by jumping from the basket when it was 10-15 metres from the ground, said Ahmed Aboud, head of an association representing Luxor balloon operators.