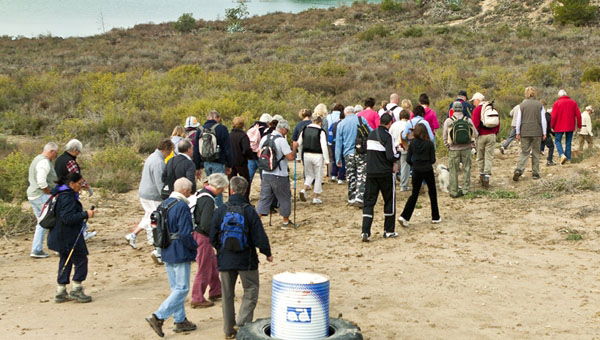 IT is time to get those walking shoes on or cycles out and start training for the Annual Charity Lake Challenge.
Organised by Casa La Pedrera and raising funds for the Children's Home in Elche and the Help at Home (HAH) charity, it will take place on Sunday, March 3.
The fifth annual walk gives participants the chance to enjoy the stunning scenery of the unspoilt La Pedrera Reservoir during a sponsored walk or cycle.  There are 5km, 10km or 15 km routes to suit walkers of all fitness levels and a 20km route for cyclists. Refreshments and entertainment will be on hand following the Lake Challenge as well as a charity raffle.
For those wanting to take part but not sure of their fitness level, a number of pre-training days have been organised by the Grand Designs House, situated close to San Miguel. Owner and organiser Jenni Ray explained: "They will be held each Monday and will introduce participants to the terrain.  We will build up to whatever distance participants would like to achieve.
"Starting Monday, January 21, it will give six weeks for everyone to get into good shape and participate with confidence."                                                                                                                                                                                                                                                                           
There are two sessions on a Monday, at 10.30am for experienced walkers or 2pm for beginners who need a gentler introduction.
Sponsorship forms can be obtained by emailing [email protected].  You can nominate which of the two charities you would like to support or pay €5 on the day, which will be split between both.  More information: Jenni on 660 816 620 or visit www.thingstodoinspain.info
Dogs on lead are welcome, but notification is needed in advance.